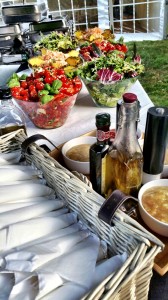 We have been proudly providing superior hog roast catering services across the whole of Cheshire for more than two decades and we are incredibly passionate about what we do. Our years of industry experience, attention to detail and commitment to quality are second to none, and our dedicated team of chefs, catering assistants and customer service staff are the best in the business.
Here at Hog Roast Cheshire, we know and love our local area and we take pride in our unrivalled ability to cater at any indoor or outdoor venue throughout the county. We are incredibly discerning about our choice of ingredients and use only the highest quality locally-sourced produce for all of our menus.
Here at Hog Roast Cheshire, we will always guarantee a consistently excellent standard of food and service whatever your occasion, venue or budget. We pride ourselves on being able to cater for every individuals requirements and needs for their own event. If you are looking for something more specific than what you can see on our menus, then we will be more than happy to create a bespoke menu designed specifically to suit your event. We are committed to go above and beyond to meet our customers needs.
Not only are we the most reliable and distinguished hog roast catering company in Cheshire but we play a big part in our local trade. We support local businesses and farmers by choosing to buy local, quality produce. Therefore we know that what we bring to your event is the best we can source. Ensuring that the fresh produce provides you with nothing but fresh flavours and phenomenal compliments.
Why Choose Us?
The Hog Roast Cheshire team have a highly adaptable approach to catering, both in terms of the diverse locations we are capable of cooking at and the modern, varied menus that we offer. Whilst traditional hog roasts are our speciality, we are not limited to only providing pork. Our multipurpose hog roast machines and skilled chefs can provide a range of alternative meats, using the same delicious slow-roasted cooking method that we are so famous for.
We also have a varied choice of vegetarian, vegan and gluten-free options, to suit all tastes and dietary requirements. No matter what dietary requirement that your guests have we assure you that we will be able to provide any alternative required so all of your guests can enjoy a delicious Hog Roast Cheshire meal together.
We will work with you to tailor our menus to meet your needs and budget and we can adapt our style of service depending on the level of formality your event requires, whether it be a relaxed buffet or a formal 3 course meal with waiting staff. All of our teams are experienced in all aspects and ready to provide you with a fantastic dining experience that you and your guests will remember for a long time to come.
What Events Do We Cater For?
Hog Roast Cheshire can cater for any type of occasion in any location, from large outdoor wedding receptions in the glorious Cheshire countryside, to classy corporate events in Chester city centre, or private parties in your own back garden. No matter what you are hosting your event for or where your event will be held, rest assured that a Hog Roast is a perfect choice for your guests to dine on and appreciate the great flavours created from such a traditional cooking method that's been brought back to life in this 21st century!
If you want a versatile and unique catering company who can provide delicious food and friendly service anywhere in Cheshire, please do not hesitate to get in touch to discuss your requirements and hear more about us with a member of our highly experienced team.